First step: Set up your University email account
Your University email account is extremely important.
It's the main way your tutors and School will contact you.
It's also the best way to contact University staff and students about your studies.
You should check your University email at least once a week.
Your email account
You'll be given a University of Aberdeen email account as soon as you become a registered student with us. The email service we use is Outlook on the web, hosted by Microsoft Office 365.
You can use your University account to send inquiries to your tutor, course coordinator and all members of staff. You'll receive all updates, information and general communications here.
Email account features
50GB mail storage (25MB maximum message size).
Compatible with mobile devices.
Online address book of all University staff and students.
Calendar facility.
You can give other people access to your calendar, schedule meetings, and share contacts, tasks, files and folders with your colleagues.
How to access your email account
Log in to Outlook at https://outlook.com/abdn.ac.uk.
Log in using your University of Aberdeen username followed by @abdn.ac.uk. For example, t99jb19@abdn.ac.uk.
Not sure what your username is?
Your username is the same one you use to access MyAberdeen. It's in the format t99jb19.
Need more help?
If you have any issues with your email account, you can:
access IT support through our IT portal, email or phone
get help within Outlook anytime by clicking the Help icon.
Why checking your University email is essential
All emails relating to your studies will be sent to your University email account, not your personal email account.
So it's really important you get into the habit of using and checking your University email frequently, at least once per week.
We do not accept failure to check your email as grounds for appeal.
Forward your University emails to another email account automatically
You can set your University email account to forward all incoming messages to your personal or work email account – any account you check regularly.
This is a good way to keep tabs on your course-related emails, making sure you do not miss any important announcements.
Just remember this is only useful to keep you updated. You should always log in to your University account to reply. Otherwise, replies will be sent from your non-University address.
How to set this up:
Go to Outlook Web App and click the Settings cog > View all Outlook settings > Email > Rules.
Click + Add new rule.
Write a name for your rule in box 1.
In step 2) Add a condition, select Apply to all messages.
In step 3) Add an action, select Forward to or Forward as attachment.
Select or type in the address you want to forward your emails to.
Click Save to save your rule.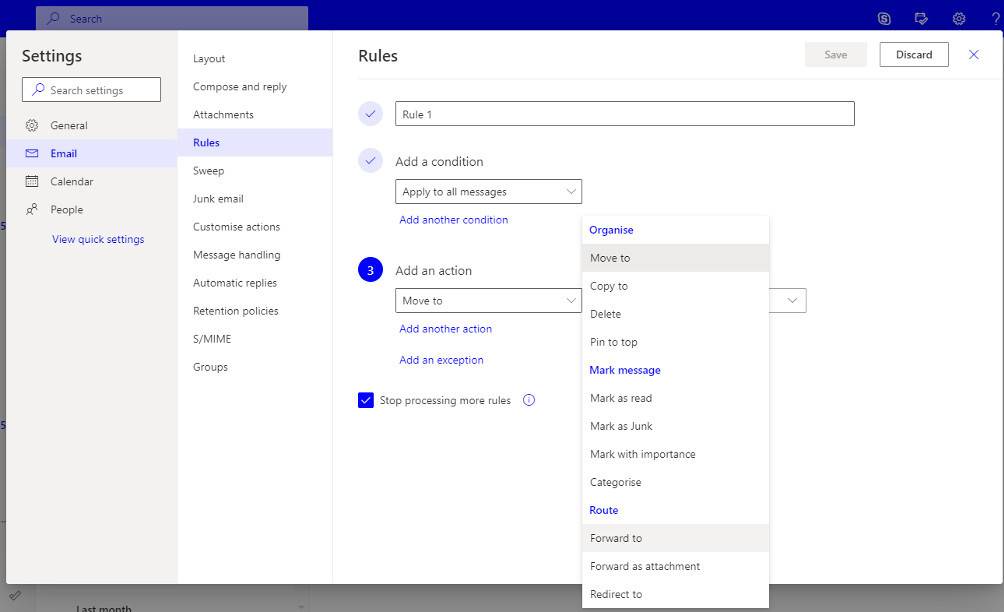 Get University email on your phone
Using Android or iOS, you can access your University emails on your mobile with ease.
View our Toolkit guides to get University email on your phone.
5 stress-free inbox tips
Organise your emails once a day
Don't let email take over your life. Set aside some time for processing your University email account and do it just once a day.
Prioritise using the 80/20 rule
Also called the Pareto Principle, this rule states that 80% of output comes from 20% of input. So, focus on the actionable 20%; the high-value emails that lead to maximum output. The 80% left can wait one to three days for a reply, and some might not need a reply at all.
Archive
Outlook has a built-in Archive folder and Archive action. Once you're done with an email, archive it. It's always there if you need to search for it. But it shifts it out of your inbox. This slims your inbox, so you only see the emails you need to focus on.
Create folders
You can create as many folders as you like in Outlook, then sort your emails into them. Try organising your folders by day of the week, eg 'Reply by Wednesday', or according to your priorities. You can use filters and the Rules function to sort emails into folders automatically as they arrive in your inbox.
Use the one-minute rule
It's easy to let tiny tasks, like replying to an email, build up. But the growing pile can soon weigh you down, and make you feel guilty and unproductive. Get into a new habit: if replying to an email will take you less than a minute, reply right away. It'll help you stay on top of your inbox and you'll feel more productive too.
Learn more with our Toolkit guides
Have you seen Toolkit yet? It's our online hub to help you build your digital skills. You'll find guides and step-by-step videos for email and all the software we use.