IT essentials for online study
The IT equipment you need to study online with us: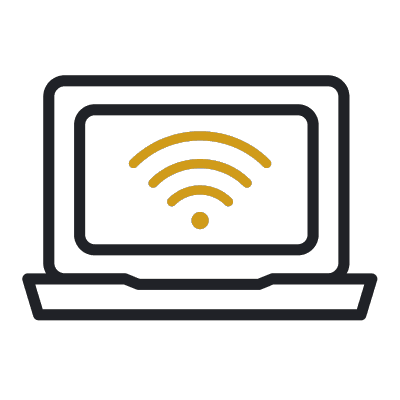 A computer with internet access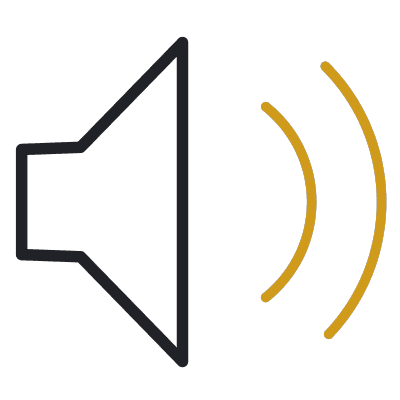 Computer essentials
You'll need a desktop PC, laptop or Mac, operating on either:
Windows 10 or later
macOS 10.15 (Catalina) or later.
We recommend the following:
Processor: 2.0 GHz Dual Core or higher
Memory: 8GB of RAM or higher
It's best to have access to your own computer. Sometimes we may ask you to download software for your course, which may be an issue if you're on a shared device like a work computer.
Speakers or headphones
Most of our courses feature audio, whether that's in video lectures, audio clips or podcasts.
We recommend using a headset with built-in microphone and earphones if you're likely to study in an environment with background noise.
Microphone
For some courses, you may need a microphone to participate in online tutorials and other group activities.
Your laptop or computer may feature a built-in microphone, or you can use headphones that have a built-in microphone.
Webcam
A webcam is optional for our online courses, but you may find it useful for some interactive sessions.
Reliable internet access
We recommend:
a wired connection
a minimum download speed of 2 Mbps so you can take part fully in live sessions.
Using a smartphone or tablet
Most teaching materials are smartphone- and tablet-friendly. But we recommend a proper laptop or desktop for completing assignments comfortably.
Mobile and tablet requirements**
Apple: iOS or iPadOS (last two major releases supported), with Safari or Edge
Google: Android (last four major releases supported) with Chrome or Edge
**Application sharing is not available in Blackboard Collaborate on mobile devices and tablets. If you want to share your screen or application you must be on a desktop computer.
Internet browser
Our online courses are compatible with the latest version of the following browsers:
Google Chrome (recommended)
Edge Chromium
Mozilla Firefox
Safari.
We recommend allowing cookies and having JavaScript enabled.
Accessibility
For the best experience studying online with us using a screen reader, we recommend using:
for Windows: Google Chrome and JAWS
for Mac: Safari and VoiceOver.
If you'd like more information about accessibility for online study, or to talk to our Assistive Technology Team, please email student.support@abdn.ac.uk.
Software
If your course requires specialist software, we'll provide you with access to this and a licence that lasts throughout your studies.
We offer a free Software Download Service. It features useful software for all our registered students. Some software, eg MiniTab, may be Windows-only, not for Mac.
Office365
We'll give you access to Office365 applications, both online and on up to five personal devices.
This means you can use online versions of Microsoft Word, Excel, and PowerPoint for free.
PDF reader
Some of the resources on your course will be provided in PDF format, so you'll need access to a PDF reader like Adobe Acrobat Reader.
As a University of Aberdeen student, you can download and use the full Adobe Acrobat software. This allows you to create, edit and view PDF documents. Once you register with us, we can make Adobe Acrobat available to you via our Software Download Service.
Virus protection
We recommend downloading virus protection software.
See our Toolkit guide for more information and guidance on anti-virus software.
IT support
When you study with us online you'll have access to the same IT support as our on-campus students. This includes:
a University of Aberdeen email address
personal file space on the University network that you can access remotely
our Remote VPN, giving you secure, authenticated access to your personal file space
access to Toolkit, our award-winning IT support resource
access to our expert IT Service Desk.
After you pay for and enrol on a course, you'll create a username and password for your personal IT account.
You'll use this username and password to access your course via MyAberdeen, our Virtual Learning Environment (VLE).
You'll also use this to access your University email account, where all your course-related emails will be sent.
What is Toolkit?
Toolkit is our award-winning resource for students, full of free apps, tutorials and guides to make study life easier.
It features lots of free digital skills training, with guides to common programs you're likely to use when studying online.
Basic IT skills
If computers are new to you, take a look at the Toolkit guide to Basic IT Skills. It features easy-to-use guides to computer basics.
Toolkit features lots of free digital skills training, so you can learn how to use common programs, including:
Microsoft Word
Microsoft Excel
Microsoft PowerPoint.
Toolkit features a really useful IT Induction for New Students too.
As an On-demand Learning student, you'll also have free access to Percipio – simple online training in a range of software, including Microsoft Office, Adobe Acrobat, Photoshop and more.
IT issues
If you have any IT issues while studying with us, our IT Service Desk is here to help. For assistance, you can:
Their normal operating hours are 8am-5pm GMT (BST). An out-of-hours helpline operates from 5pm to 8am GMT (BST) weekdays and provides 24-hour cover over weekends and public holidays.
The IT Service Desk can assist with problems accessing course material or downloading software that we offer. Some technical issues encounter may be caused by the equipment (PC, laptop) you have, but if we can help, we will.